With the Government backed Help to Buy scheme, buyers in London can get assistance buying a home with an equity loan of up to 40% of the property purchase price. The Help to Buy equity loan limit was raised from 20% to 40% of the properties purchase value for homes in all London boroughs to reflect the higher property values seen across London.
HOW DOES HELP
TO BUY WORK?
If you wish to purchase a home, you will need to contribute as little as a 5% deposit on a newly built home and your Help to Buy mortgage will make up the rest after the 40% equity loan. Currently Help to Buy in London offers equity loans to buyers looking to purchase a new build home with a purchase price up to £600,000. Borrowers benefit from not paying any interest on this loan for the first five years.

Example: for a home purchased for £400,000

If the home you purchased was £400,000, you will need a (5%) cash deposit of £20,000. You would get £220,000 (55%) from your mortgage with a commercial lender and the remaining £160,000 (40%) from a Government loan. You would need to pay off your mortgage with your share of the money.

Cost of your home - £400,000
Your 5% deposit - £20,000
Government 40% loan - £160,000
Commercial lender 55% mortgage - £220,000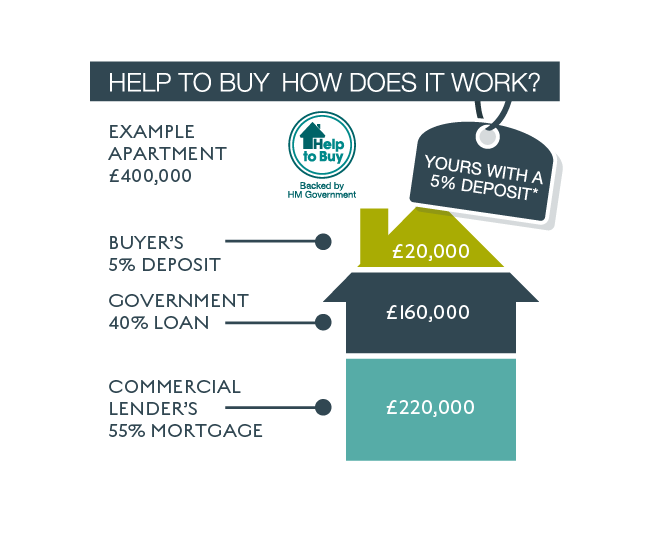 Help to Buy*: Equity Loan (2021-2023): Eligible homebuyers can borrow 5% to 20% (40% in London) of the market value of a newly built home. Regional property price limits will apply. The equity loan is interest free for 5 years; monthly interest payments start at 1.75% and rise each year in April by the Consumer Price Index (CPI) plus 2%. Pay a £1 monthly management fee from the start. Repay your equity loan at the end of your mortgage or equity loan term, when you sell your home or any time before. The lender, Homes England, secures the equity loan as a second charge on yourmhome. Help to Buy is subject to eligibility, terms and conditions: www.helptobuy.gov.uk. Your home may be repossessed if you do not keep up repayments on your repayment mortgage, equity loan or other loans secured against it.

* Taken from the government Help to Buy guidelines.
Register your interest to download our brochure